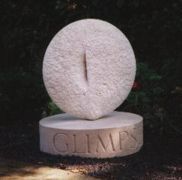 Quiet Garden at the Centre for Reflection
The Quiet Garden is designed for contemplation and the Centre is affiliated to the Quiet Garden Movement. The Movement provides a network of quiet gardens for prayer, stillness, reflection and appreciation of beauty; for learning about the Christian life and spirituality; and for experiencing creativity and healing in the context of God's love.
This garden makes connections between the "Outer landscape" and our "Inner journey" and offers a sense of peace and stillness for those who sit and reflect on away days or led Quiet Days. The design of the garden which has no grass creates visual links between the outer landscape of stones, flowing water, circular seat round a tree and Mediterranean planting joined to a formally shaped herb garden with a summer house. The garden also holds a piece of sculpture by Jean Parker entitled Glimpses. It looks like a mobile disc on end, with one side of the Portland stone cut rough and the other very smooth. The two sides representing light and dark are cut through at an angle giving a glimpse of the garden beyond, a beautiful rendition of the glimpses of the Resurrection we catch in our every day lives. On the wall by the pool is a plaque with a quotation from Isaiah 58 "You will be like a well-watered garden, like a spring whose waters never fail".
The Centre is on the edge of the twin villages of Aston Tirrold and Aston Upthorpe in the South Oxfordshire countryside, with lanes and footpaths on the spring line at the northern edge of the Berkshire Downs. This range of chalk hills stretches from Avebury to meet the Chiltern Hills at Streatley and Goring on Thames.
| | | | | |
| --- | --- | --- | --- | --- |
| | | | | |
| Garden pool at the Centre | | Isaiah plaque | | "Glimpses": sculpture by Jean Parker |
Centre for Reflection
at Aston Tirrold United Reformed Church
Spring Lane, Aston Tirrold, Didcot, Oxon OX11 9EJ
how to find us